Factory Records: IKON 5 VARIOUS ARTISTS A Factory Outing
VHS: UK 1983 (IKON IKON 5) [PAL/NTSC]
BETA: UK 1983 (IKON IKON 5) [PAL/NTSC]
2:45 {Hacienda Construction Footage} *
6:37 NEW ORDER - Your Silent Face
3:09 3:03 STOCKHOLM MONSTERS - Life's Two Faces
4:36 52nd STREET - The Rapp
3:43 A CERTAIN RATIO - Back to the Start
3:08 A CERTAIN RATIO - Showcase
4:05 SWAMP CHILDREN - You've Got me Beat
4:29 THE DURUTTI COLUMN - The Beggar
5:17 THE WAKE - Uniform
4:48 SECTION 25 - Warhead
5:47 3:06 {Hacienda Venue Footage} **
* Instrumental of NEW ORDER - '5-8-6' ("Prime"/demo) used for intro Hacienda construction footage. Camera: TONY WILSON Edit: MALCOLM WHITEHEAD
** Instrumental mix of 52nd STREET - 'Cool As Ice' used for outro Hacienda venue footage.
Production: n/a
Design: MALCOLM WHITEHEAD after PETER SAVILLE
Notes: All tracks live at The Hacienda Club, Manchester. (Thus "51/71" cover graphic.) All videos directed by MALCOLM WHITEHEAD.
Later releases with sticker stating: Special Notice: Ikon regrets that The Wake and Quando Quango soundtracks have had to be removed due to insistence of Island Music Ltd.
Equivalent to Factory FACT 71.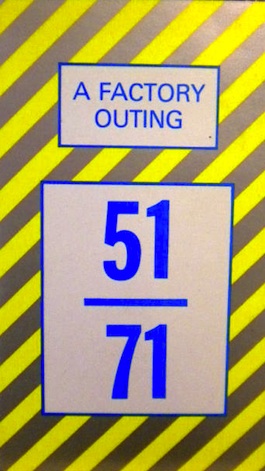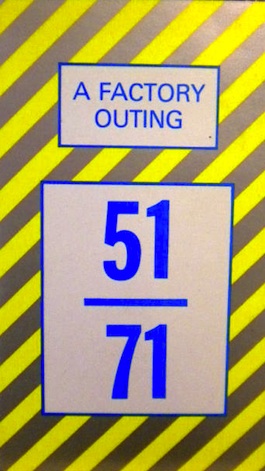 Related content
IKON 1 VARIOUS ARTISTS The Factory Complication

[IKON, VIDEO, VHS, BETA, A CERTAIN RATIO, SECTION 25, NEW ORDER, CABARET VOLTAIRE, THE DURUTTI COLUMN, CRISPY AMBULANCE, OMD, ]



IKON 2 JOY DIVISION Here Are The Young Men

[IKON, VIDEO, VHS, BETA, PETER SAVILLE, ]



IKON 3 VARIOUS ARTISTS A Factory Video

[IKON, VIDEO, VHS, BETA, PETER SAVILLE, SECTION 25, A CERTAIN RATIO, OMD, CABARET VOLTAIRE, THE DURUTTI COLUMN, KEVIN HEWICK, THE NAMES, CRISPY AMBULANCE, NEW ORDER, STOCKHOLM MONSTERS ]



IKON 4 NEW ORDER Taras Shevchenko

[IKON, VIDEO, VHS, PETER SAVILLE ASSOCIATES, ]



IKON 5 VARIOUS ARTISTS A Factory Outing

[IKON, VIDEO, VHS, BETA, NEW ORDER, JAMES-BAND, STOCKHOLM MONSTERS, 52ND STREET, A CERTAIN RATIO, SWAMP CHILDREN, THE DURUTTI COLUMN, THE WAKE, SECTION 25, QUANDO QUANGO ]



IKON 6 JOHN DOWIE Dowie

[IKON, VIDEO, VHS, BETA, RALPH STEADMAN, ]



IKON 7 THE BIRTHDAY PARTY Pleasure Heads Must Burn

[IKON, VIDEO, VHS, BETA, ]



IKON 8 THE FALL Perverted by Language Bis

[IKON, VIDEO, VHS, BETA, ]



IKON 9 VARIOUS ARTISTS The Final Academy Documents

[IKON, VIDEO, VHS, BETA, WILLIAM S BURROUGHS, BRYON GYSIN, ]



IKON 10 HOWARD WALMSLEY Feverhouse

[IKON, VIDEO, VHS, BETA, Design: HOWARD WALMSLEY and TONY WILSON, GRAHAM MASSEY, BITING TONGUES]



IKON 11 VARIOUS ARTISTS Bessy Talks Turkey

[IKON, VIDEO, VHS, BETA, JAMES-BAND, SECTION 25, THICK PIGEON, 52ND STREET, QUANDO QUANGO, THE WAKE, KALIMA, THE JAZZ DEFEKTORS, STOCKHOLM MONSTERS, THE DURUTTI COLUMN, MARCEL KING, NEW ORDER, ABECEDARIANS, SHARK VEGAS, STREETLIFE, A CERTAIN RATIO, LIFE, THE ROYAL FAMILY AND THE POOR, RED TURNS TO]



IKON 12 VARIOUS ARTISTS Shorts

[IKON, VIDEO, VHS, BETA, THE DURUTTI COLUMN, STOCKHOLM MONSTERS, THE WAKE, THE ROYAL FAMILY AND THE POOR, SECTION 25, KALIMA, JAZZ DEFEKTORS, QUANDO QUANGO, 52ND STREET, NEW ORDER]



IKON 13 IVAN UNWIN Flickering Shadows

[IKON, VIDEO, VHS, BETA, ]



IKON 14 THE VIRGIN PRUNES Sons Find Devils

[IKON, VIDEO, VHS, BETA, ]



IKON 15 SURVIVAL RESEARCH LABORATORIES A Scenic Harvest From The King of Pain

[IKON, VIDEO, VHS, BETA, ]



IKON 16 THE DURUTTI COLUMN Domo Arigato

[IKON, VIDEO, VHS, BETA, ANTHONY H WILSON, 8VO, MARK HOLT]



IKON 17 NEW ORDER Pumped Full of Drugs

[IKON, VIDEO, VHS, BETA, ANTHONY H WILSON, ROB GRETTON, CHRISTIANE MATHAN, PETER SAVILLE ASSOCIATES, ]



IKON 18 DANIEL LANDIN & RICHARD HESLOP The Child And The Saw

[IKON, VIDEO, VHS, BETA, ]



IKON 19 TOOLS YOU CAN TRUST The Tools For Better Labour

[IKON, VIDEO, VHS, BETA, ]



IKON 20 SEVERED HEADS Kato Gets The Girl

[IKON, VIDEO, VHS, BETA, Design: ROBERT JAMES ]



IKON 21 BRIAN NICHOLSON Show Me What You Look Like

[IKON, VIDEO, VHS, BETA, MALCOLM WHITEHEAD, ]



IKON 22 LIAISONS DANGEREUSES Liaisons Dangereuses

[IKON, VIDEO, VHS, BETA, ]



IKON 23 NICK TURVEY Radio Dog

[IKON, VIDEO, VHS, BETA, ]



IKON 24 HUNTERS AND COLLECTORS The Way To Go Out

[IKON, VIDEO, VHS, BETA, ]



IKON 25 Fat Of The Land - Selected British Films 1984-88

[IKON, VIDEO, VHS, BETA, RICHARD HESLOP, DANIEL LANDIN, MAGGIE JAILLER, CERITH WYN EVANS, JOY PERINO, CARRIE KIRKPATRICK, TIMOTHY BURKE, ]



IKON 26 BITING TONGUES Wall Of Surf

[IKON, VIDEO, VHS, BETA, JOHNSON/PANAS, TREVOR JOHNSON, T-SHIRT, ]



IKON 27 The Ikon T-Shirt

[IKON, T-SHIRT]



IKON 28 The Ikon Poster

[IKON, POSTER]



IKON 29 O YUKI CONJUGATE Peripheral Vision

[IKON, VIDEO, VHS, ]



IKON 30 SKA-BOOM Further Adventures Of Ska-boom

[IKON, VIDEO, VHS, ]



IKON 31 'Wall of Surf' T-SHIRT

[IKON, T-SHIRT, BITING TONGUES]



IKON 32 EDWARD BARTON

[IKON, VIDEO, VHS, ]



IKON 33 SLAB!

[IKON, VIDEO, VHS, ]



IKON 34 DUB SEX

[IKON, VIDEO, VHS, ]



IKON 35 PATRIK FITZGERALD Boardwalk

[IKON, VIDEO, VHS, ]



IKON 36 SEVERED HEADS If I've Told You Once I've Told You 1,000 Times VIDEO/T-SHIRT

[IKON, VIDEO, VHS, ]



IKON 37 CABARET VOLTAIRE Plasticity

[IKON, VIDEO, UNDONE]



IKON 38 'El Planetero' POSTER

[IKON, POSTER]



IKON 39 'Power - The Tom O'Connor Years' T-SHIRT

[IKON, T-SHIRT]



IKON 40 BUZZCOCKS Auf Wiedersehen VIDEO

[IKON, VIDEO, VHS, T-SHIRT, ASSORTED IMAGES]



IKON 40(T) BUZZCOCKS Auf Wiedersehen T-SHIRT

[IKON, T-SHIRT, ASSORTED IMAGES]



IKON 41 The Ikon Baseball Cap

[IKON, CAP]



IKON 42 C-Cat Trance

[IKON, VIDEO, VHS, ]



IKON 43 'God' T-SHIRT '

[IKON, T-SHIRT]



IKON 44 'O Yuki Conjugate' POSTER

[IKON, POSTER]



IKON 45 'Wall of Surf' POSTER

[IKON, POSTER, BITING TONGUES]



IKON 46 'O Yuki Conjugate' T-SHIRT

[IKON, T-SHIRT]



IKON 47 'Tools You Can Trust' T-SHIRT

[IKON, T-SHIRT]



IKON 48 'Here Are The Young Men' T-SHIRT

[IKON, T-SHIRT, JOY DIVISION, ]



IKON 49 'Pumped Full of Drugs' T-SHIRT

[IKON, T-SHIRT, NEW ORDER, ]



IKON 50 BRIAN NICHOLSON In the Cradle

[IKON, VIDEO, VHS, ]



IKON 52 IVAN UNWIN Septic Kz Project

[IKON, VIDEO, VHS, ]



MAN 1 Manchester Airport

[IKON, VIDEO, VHS, ]



MAN 2 Raleigh (unreleased Raleigh bikes documentary)

[IKON, VIDEO, VHS, ]



MAN 3 Shop (Booths supermarket)

[IKON, VIDEO, VHS, ]




MAN 4 Project X (unfinished)

[IKON, VIDEO, VHS, UNDONE]



MAN 5 Mancunia project (abandoned)

[IKON, VIDEO, VHS, UNDONE ]



MAN 6 Robb Wilton Project (abandoned)

[IKON, VIDEO, VHS, UNDONE]




Dubious Label (IKON/FCL offshoot label)

[IKON, VIDEO, VHS, ]




DUB 1 The Moodists

[IKON, VIDEO, VHS, ]



DUB 2 Danielle Dax

[IKON, VIDEO, VHS, ]



DUB 3 The Chevalier Brothers

[IKON, VIDEO, VHS, ]



DUB 4 The Higsons

[IKON, VIDEO, VHS, ]



DUB 5 James King & The Lone Wolves

[IKON, VIDEO, VHS, ]



DUB 6 The Sinatras

[IKON, VIDEO, VHS, ]



DUB 7 John Watts and the Cry

[IKON, VIDEO, VHS, ]



DUB 8 The Monroes

[IKON, VIDEO, VHS, ]



DUB 9 The Truth

[IKON, VIDEO, VHS, ]



DUB 10 The Bruce Foxton Band

[IKON, VIDEO, VHS, ]



DUB 11 The Bluebells

[IKON, VIDEO, VHS, ]



DUB 12 Dubious T-shirt

[IKON, T-SHIRT]



DUB 13 Dubious poster

[IKON, POSTER]



BB! 019 Twelve 88 Cartel – "Evidence"

[IKON, VIDEO, VHS, ]



Kurt 13 Radio Tirana – "Harmonie & Forschung"

[IKON, VIDEO, VHS, ]