Factory Records: FACT 71 VARIOUS ARTISTS A Factory Outing
VIDEO
10/83
VHS: UK 1983 (Factory FACT 71) [PAL/NTSC]
BETA: UK 1983 (Factory FACT 71)
2:45 {Hacienda Construction Footage} *
6:37 NEW ORDER - Your Silent Face
3:09 JAMES - Stutter
3:03 STOCKHOLM MONSTERS - Life's Two Faces
4:36 52ND STREET - The Rapp
3:43 A CERTAIN RATIO - Back to the Start
3:08 A CERTAIN RATIO - Showcase
4:05 SWAMP CHILDREN - You've Got me Beat
4:29 THE DURUTTI COLUMN - The Beggar
5:17 THE WAKE - Uniform
4:48 SECTION 25 - Warhead
5:47 QUANDO QUANGO - Go Exciting
3:06 {Hacienda Venue Footage} **
* Instrumental of NEW ORDER: '5-8-6' ("Prime"/demo) used for intro Hacienda construction footage.
** Instrumental mix of 52nd STREET: 'Cool As Ice' used for outro Hacienda venue footage.
Design: MALCOLM WHITEHEAD after PETER SAVILLE
Notes: All tracks live at FAC 51 The Hacienda, Manchester. (Thus "51/71" cover graphic.)
Later releases on IKON with sticker stating: Special Notice: Ikon regrets that The Wake and Quando Quango soundtracks have had to be removed due to insistence of Island Music Ltd.
Equivalent to IKON 5.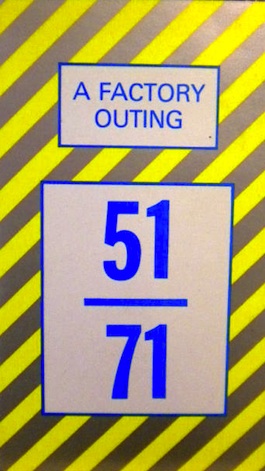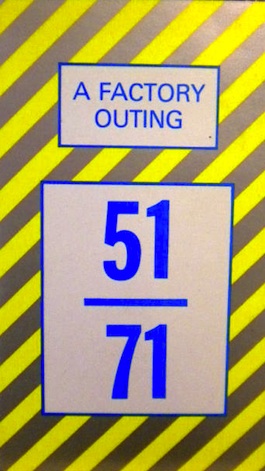 Related content
FACT 37 JOY DIVISION Here are the Young Men

[FCLUK, FIRST50, VIDEO, BETA, VHS, JOY DIVISION, MALCOLM WHITEHEAD, PETER SAVILLE]



FACT 38 A CERTAIN RATIO Below the Canal

[FCLUK, FIRST50, A CERTAIN RATIO, VIDEO, UNDONE]



FACT 46 VARIOUS ARTISTS The Video Circus (Liverpool)

[FCLUK, FIRST50, POSTER, VIDEO, EVENT, A CERTAIN RATIO, CABARET VOLTAIRE, JOY DIVISION, NEW ORDER, SECTION 25]



FAC 54 Hacienda Construction

[FCLUK, VIDEO]



FACT 56 VARIOUS ARTISTS A Factory Video

[FCLUK, VIDEO, VHS, BETA, PETER SAVILLE, SECTION 25, A CERTAIN RATIO, OMD, CABARET VOLTAIRE, THE DURUTTI COLUMN, KEVIN HEWICK, THE NAMES, CRISPY AMBULANCE, NEW ORDER, STOCKHOLM MONSTERS]



FACT 71 VARIOUS ARTISTS A Factory Outing

[FCLUK, VIDEO, VHS, BETA, NEW ORDER, JAMES-BAND, STOCKHOLM MONSTERS, 52ND STREET, A CERTAIN RATIO, SWAMP CHILDREN, THE DURUTTI COLUMN, THE WAKE, SECTION 25, QUANDO QUANGO]



FACT 76 JAZZ DEFEKTORS The Movie

[FCLUK, VIDEO, JAZZ DEFEKTORS, ]



FACT 77 NEW ORDER Taras Shevchenko

[FCLUK, VIDEO, VHS, BETA, NEW ORDER, PETER SAVILLE]



FACT 89 JOHN DOWIE Dowie

[FCLUK, VHS, BETA, VIDEO, JOHN DOWIE, RALPH STEADMAN]



FACT 105 HOWARD WALMSLEY Feverhouse

[FCLUK, VIDEO, VHS, BETA, Design: HOWARD WALMSLEY and TONY WILSON, GRAHAM MASSEY, BITING TONGUES ]



FACT 125 VARIOUS ARTISTS Bessy Talks Turkey

[FCLUK, VIDEO, VHS, BETA, JAMES-BAND, SECTION 25, THICK PIGEON, 52ND STREET, QUANDO QUANGO, THE WAKE, KALIMA, THE JAZZ DEFEKTORS, STOCKHOLM MONSTERS, THE DURUTTI COLUMN, MARCEL KING, NEW ORDER, ABECEDARIANS, SHARK VEGAS, STREETLIFE, A CERTAIN RATIO, LIFE, THE ROYAL FAMILY AND THE POOR, RED TURNS TO]



FACT 137 VARIOUS ARTISTS Shorts

[FCLUK, VIDEO, VHS, BETA, THE DURUTTI COLUMN, STOCKHOLM MONSTERS, THE WAKE, THE ROYAL FAMILY AND THE POOR, SECTION 25, KALIMA, JAZZ DEFEKTORS, QUANDO QUANGO, 52ND STREET, NEW ORDER]



FACT 144 THE DURUTTI COLUMN Domo Arigato

[FCLUK, THE DURUTTI COLUMN, CD, VIDEO, VHS, BETA, 8VO, MARK HOLT]



FAC 173 NEW ORDER Bizarre Love Triangle

[FCLUK, NEW ORDER, VIDEO, VHS, ROBERT LONGO]



FACT 177 NEW ORDER Pumped Full of Drugs

[FCLUK, NEW ORDER, VIDEO, VHS, BETA, Production: ANTHONY WILSON (Shoot director) / ROB GRETTON ("Prime Mover"), Design: CHRISTIANE MATHAN for PETER SAVILLE ASSOCIATES]



FACT 180 VARIOUS ARTISTS Factory Instore Tape No.1

[FCLUK, VIDEO, VHS, THE DURUTTI COLUMN, JOY DIVISION, KALIMA, HAPPY MONDAYS, THE RAILWAY CHILDREN, NEW ORDER, MIAOW, WILLIAM S. BURROUGHS, Design: PETER SAVILLE]



FACT 186 VARIOUS ARTISTS Festival of the 10th Summer

[FCLUK, VIDEO, CANCELLED, ALBUM]



FAC 194 THE DURUTTI COLUMN When The World

[FCLUK, THE DURUTTI COLUMN, SINGLE, CDS, CDV, VIDEO, VHS, STEPHEN STREET, 8VO, MARK HOLT]



FAC 209 HAPPY MONDAYS Film Shoot

[FCLUK, EVENT, VIDEO, ]



FAC 211 Wired Joy Division Feature

[FCLUK, VIDEO, JOY DIVISION, with TONY WILSON, ROB GRETTON, ALAN ERASMUS, PAUL MORLEY, PETER HOOK, STEPHEN MORRIS, BERNARD SUMNER, and a statement from MARTIN HANNETT]



FAC 213 JOY DIVISION Atmosphere

[FCLUK, SINGLE, VIDEO, 7-INCH, 12-INCH, CDS, Production: MARTIN HANNETT, Design: PETER SAVILLE (Art direction) / BRETT WICKENS / PETER SAVILLE ASSOCIATES (Design)]



FAC 223 NEW ORDER Fine Time

[FCLUK, SINGLE, VIDEO, 7-INCH, 12-INCH, CASSETTE, CDS, VHS, Video directed by RICHARD HESLOP, Production: NEW ORDER, Design: PETER SAVILLE ASSOCIATES and TREVOR KEY ]



FACT 225 NEW ORDER Substance

[FCLUK, VIDEO, VHS, PETER SAVILLE]



FAC 237 NEW ORDER Here Are The Old Men

[FCLUK, VIDEO, NEW ORDER, UNDONE]



FAC 255 CATH CARROLL Beast

[FCLUK, CATH CARROLL, SINGLE, VIDEO, 7-INCH, 12-INCH, CDS, VHS, DOUGLAS BROTHERS]



FACT 260 HAPPY MONDAYS Hallelujah

[FCLUK, CENTRAL STATION DESIGN, ALBUM, LP, CD, VIDEO, VHS, RICHARD HESLOP, THE BAILEY BROTHERS]



FACT 262 HAPPY MONDAYS Madchester Rave On

[FCLUK, HAPPY MONDAYS, SINGLE, 7-INCH, 12-INCH, CDS, CASSETTE, VIDEO, VHS, CENTRAL STATION DESIGN]



FAC 263 NEW ORDER Round & Round

[FCLUK, NEW ORDER, SINGLE, 12-INCH, 7-INCH, CDS, CASSETTE, VIDEO, VHS, PETER SAVILLE]



FAC 267 REVENGE Pineapple Face

[FCLUK, REVENGE, SINGLE, 12-INCH, 7-INCH, CDS, VIDEO, VHS, PETER SAVILLE ASSOCIATES]



FAC 272 HAPPY MONDAYS Step On

[FCLUK, HAPPY MONDAYS, SINGLE, 7-INCH, 12-INCH, CDS, CASSETTE, VIDEO, VHS, THE BAILEY BROTHERS, PAUL OAKENFOLD, STEVE OSBOURNE, CENTRAL STATION DESIGN]



FAC 273 NEW ORDER Run 2

[FCLUK, NEW ORDER, SINGLE, 7-INCH, 12-INCH, VIDEO, VHS, SCOTT LITT, MICHAEL WILSON, ROBERT FRANK, MICHAEL SHAMBERG, PETER SAVILLE]



FAC 277 JOY DIVISION Substance

[FCLUK, UNDONE, VIDEO, IDEA]



FAC 279 REVENGE Slave

[FCLUK, REVENGE, SINGLE, 7-INCH, 12-INCH, CDS, VIDEO, VHS, PETER SAVILLE, ASSOCIATES]



FAC 297 THE WENDYS Pulling My Fingers Off

[FCLUK, THE WENDYS, SINGLE, 12-INCH, 7-INCH, CDS, CASSETTE, VIDEO, VHS, IAN BROUDIE, DAVID KNOPOV]



FAC 298 NORTHSIDE My Rising Star

[FCLUK, NORTHSIDE, SINGLE, 12-INCH, 7-INCH, CASSETTE, CDS, VIDEO, VHS, IAN BROUDIE, CENTRAL STATION DESIGN]



FAC 302 HAPPY MONDAYS Kinky Afro

[FCLUK, HAPPY MONDAYS, SINGLE, 7-INCH, 12-INCH, CDS, CASSETTE, VIDEO, VHS, THE BAILEY BROTHERS, PAUL OAKENFOLD, STEVE OSBOURNE, CENTRAL STATION DESIGN]



FAC 306 STEVE MARTLAND glad Day

[FCLUK, CLASSICAL, STEVE MARTLAND, SINGLE, 12-INCH, CD, VIDEO, VHS, Production: GARY MASTERS, Design: BILL SMITH STUDIO]



FAC 307 CATH CARROLL Moves Like You

[FCLUK, SINGLE, VIDEO, 7-INCH, 12-INCH, CDS, VHS , TWO CONSULTANCY]



FAC 312 HAPPY MONDAYS Loose Fit

[FCLUK, SINGLE, VIDEO, 7-INCH, 12-INCH, CDS, VHS, PAUL OAKENFOLD, STEVE OSBOURNE, CENTRAL STATION DESIGN]



FAC 313 JOY DIVISION 'Transmission' Film

[FCLUK, VIDEO, VHS, PROMO, PROMOTIONAL, ]



FAC 321 JONATHAN DEMME The Perfect Kiss

[FCLUK, NEW ORDER, VIDEO, FILM, JONATHAN DEMME, VHS, PROMO, PROMOTIONAL]



FAC 327 REVENGE Gun World Porn

[FCLUK, REVENGE, SINGLE, 12-INCH, CDS, VIDEO, VHS, JOHN MACKLIN]



FAC 328 ELECTRONIC Feel every beat

[FCLUK, ELECTRONIC, SINGLE, 12-INCH, 7-INCH, CDS, CASSETTE, VIDEO, VHS, MARK FARROW, JOHNNY MARR, BERNARD SUMNER, ]



FAC 332 HAPPY MONDAYS Judge Fudge

[FCLUK, HAPPY MONDAYS, SINGLE, 12-INCH, 7-INCH, CDS, CASSETTE, VIDEO, VHS, PAUL OAKENFOLD, STEVE OSBOURNE, CENTRAL STATION DESIGN]



FAC 339 MTV Special History of Factory

[FCLUK, VIDEO, VHS, TONY WILSON, JEZ KERR and MARTIN MOSCROP, BERNARD SUMNER, STEPHEN MORRIS, PETER HOOK, GARY NEWBY, SHAUN RYDER, JOHNNY MACARTHUR, IAN WHITE, VINI REILLY]



FAC 362 HAPPY MONDAYS Stinkin' Thinkin'

[FCLUK, SINGLE, 7-INCH, 12-INCH, CDS, CASSETTE, VIDEO, VHS, HAPPY MONDAYS, FRANTZ / WEYMOUTH, CENTRAL STATION DESIGN, POSTER]



FAC 372 HAPPY MONDAYS Sunshine and Love

[FCLUK, SINGLE, 7-INCH, CDS, 12-INCH, VHS, VIDEO, FRANTZ / WEYMOUTH, HAPPY MONDAYS, CENTRAL STATION DESIGN]



FAC 400 JOY DIVISION Transmission

[FCLUK, VIDEO, VHS, JOY DIVISION, PROMO, PROMOTIONAL]



FACT 400v VARIOUS ARTISTS Palatine. The Free Vid

[FCLUK, VIDEO, VHS, JOHN MACKLIN, A CERTAIN RATIO, FADELA, NEW ORDER, CATH CARROLL, KALIMA, HAPPY MONDAYS, THE DURUTTI COLUMN, THE RAILWAY CHILDREN, JOY DIVISION, PROMOTIONAL]



FAC 451 JANE STANTON Love Will Tear Us Apart - A History of The Hacienda

[FCLUK, HACIENDA, VIDEO]



FAC 2.19 SPACE MONKEYS / AHW The Ineluctable Modality of Life

[FACTOO, VIDEO, VHS]



FAC 2.23 SPACE MONKEYS Signing On

[FACTOO, EVENT, VIDEO, VHS]



(ONCE) THE DURUTTI COLUMN The Third Member of The Durutti Column

[FACDO, VIDEO, VHS, MARTIN HANNETT]



FAC BN 7 VARIOUS ARTISTS The Factory Complication

[FBN, VARIOUS ARTISTS, VIDEO, VHS, BETA, A CERTAIN RATIO, SECTION 25, NEW ORDER, CABARET VOLTAIRE, THE DURUTTI COLUMN, CRISPY AMBULANCE, OMD, ]



FACTUS 25 VARIOUS ARTISTS Four + One

[FACUS, VIDEO, VHS, FADELA, THE DURUTTI COLUMN, HAPPY MONDAYS, BITING TONGUES, STANTON MIRANDA, CHRISTIANE MATHAN, ]



OF-2 (I/OF-2) THE FALL Perverted by Language bis

[OFNY, VIDEO, VHS, BETA, ]



SFA 406 JOY DIVISION Love Will Tear Us Apart

[FACOZ, SINGLE, JOY DIVISION, 7-INCH, 12-INCH, MARTIN HANNETT, PETER SAVILLE, VIDEO, ]



IKON 1 VARIOUS ARTISTS The Factory Complication

[IKON, VIDEO, VHS, BETA, A CERTAIN RATIO, SECTION 25, NEW ORDER, CABARET VOLTAIRE, THE DURUTTI COLUMN, CRISPY AMBULANCE, OMD, ]



IKON 2 JOY DIVISION Here Are The Young Men

[IKON, VIDEO, VHS, BETA, PETER SAVILLE, ]



IKON 3 VARIOUS ARTISTS A Factory Video

[IKON, VIDEO, VHS, BETA, PETER SAVILLE, SECTION 25, A CERTAIN RATIO, OMD, CABARET VOLTAIRE, THE DURUTTI COLUMN, KEVIN HEWICK, THE NAMES, CRISPY AMBULANCE, NEW ORDER, STOCKHOLM MONSTERS ]



IKON 4 NEW ORDER Taras Shevchenko

[IKON, VIDEO, VHS, PETER SAVILLE ASSOCIATES, ]



IKON 5 VARIOUS ARTISTS A Factory Outing

[IKON, VIDEO, VHS, BETA, NEW ORDER, JAMES-BAND, STOCKHOLM MONSTERS, 52ND STREET, A CERTAIN RATIO, SWAMP CHILDREN, THE DURUTTI COLUMN, THE WAKE, SECTION 25, QUANDO QUANGO ]



IKON 6 JOHN DOWIE Dowie

[IKON, VIDEO, VHS, BETA, RALPH STEADMAN, ]



IKON 7 THE BIRTHDAY PARTY Pleasure Heads Must Burn

[IKON, VIDEO, VHS, BETA, ]



IKON 8 THE FALL Perverted by Language Bis

[IKON, VIDEO, VHS, BETA, ]



IKON 9 VARIOUS ARTISTS The Final Academy Documents

[IKON, VIDEO, VHS, BETA, WILLIAM S BURROUGHS, BRYON GYSIN, ]



IKON 10 HOWARD WALMSLEY Feverhouse

[IKON, VIDEO, VHS, BETA, Design: HOWARD WALMSLEY and TONY WILSON, GRAHAM MASSEY, BITING TONGUES]



IKON 11 VARIOUS ARTISTS Bessy Talks Turkey

[IKON, VIDEO, VHS, BETA, JAMES-BAND, SECTION 25, THICK PIGEON, 52ND STREET, QUANDO QUANGO, THE WAKE, KALIMA, THE JAZZ DEFEKTORS, STOCKHOLM MONSTERS, THE DURUTTI COLUMN, MARCEL KING, NEW ORDER, ABECEDARIANS, SHARK VEGAS, STREETLIFE, A CERTAIN RATIO, LIFE, THE ROYAL FAMILY AND THE POOR, RED TURNS TO]



IKON 12 VARIOUS ARTISTS Shorts

[IKON, VIDEO, VHS, BETA, THE DURUTTI COLUMN, STOCKHOLM MONSTERS, THE WAKE, THE ROYAL FAMILY AND THE POOR, SECTION 25, KALIMA, JAZZ DEFEKTORS, QUANDO QUANGO, 52ND STREET, NEW ORDER]



IKON 13 IVAN UNWIN Flickering Shadows

[IKON, VIDEO, VHS, BETA, ]



IKON 14 THE VIRGIN PRUNES Sons Find Devils

[IKON, VIDEO, VHS, BETA, ]



IKON 15 SURVIVAL RESEARCH LABORATORIES A Scenic Harvest From The King of Pain

[IKON, VIDEO, VHS, BETA, ]



IKON 16 THE DURUTTI COLUMN Domo Arigato

[IKON, VIDEO, VHS, BETA, ANTHONY H WILSON, 8VO, MARK HOLT]



IKON 17 NEW ORDER Pumped Full of Drugs

[IKON, VIDEO, VHS, BETA, ANTHONY H WILSON, ROB GRETTON, CHRISTIANE MATHAN, PETER SAVILLE ASSOCIATES, ]



IKON 18 DANIEL LANDIN & RICHARD HESLOP The Child And The Saw

[IKON, VIDEO, VHS, BETA, ]



IKON 19 TOOLS YOU CAN TRUST The Tools For Better Labour

[IKON, VIDEO, VHS, BETA, ]



IKON 20 SEVERED HEADS Kato Gets The Girl

[IKON, VIDEO, VHS, BETA, Design: ROBERT JAMES ]



IKON 21 BRIAN NICHOLSON Show Me What You Look Like

[IKON, VIDEO, VHS, BETA, MALCOLM WHITEHEAD, ]



IKON 22 LIAISONS DANGEREUSES Liaisons Dangereuses

[IKON, VIDEO, VHS, BETA, ]



IKON 23 NICK TURVEY Radio Dog

[IKON, VIDEO, VHS, BETA, ]



IKON 24 HUNTERS AND COLLECTORS The Way To Go Out

[IKON, VIDEO, VHS, BETA, ]



IKON 25 Fat Of The Land - Selected British Films 1984-88

[IKON, VIDEO, VHS, BETA, RICHARD HESLOP, DANIEL LANDIN, MAGGIE JAILLER, CERITH WYN EVANS, JOY PERINO, CARRIE KIRKPATRICK, TIMOTHY BURKE, ]



IKON 26 BITING TONGUES Wall Of Surf

[IKON, VIDEO, VHS, BETA, JOHNSON/PANAS, TREVOR JOHNSON, T-SHIRT, ]



IKON 29 O YUKI CONJUGATE Peripheral Vision

[IKON, VIDEO, VHS, ]



IKON 30 SKA-BOOM Further Adventures Of Ska-boom

[IKON, VIDEO, VHS, ]



IKON 32 EDWARD BARTON

[IKON, VIDEO, VHS, ]



IKON 33 SLAB!

[IKON, VIDEO, VHS, ]



IKON 34 DUB SEX

[IKON, VIDEO, VHS, ]



IKON 35 PATRIK FITZGERALD Boardwalk

[IKON, VIDEO, VHS, ]



IKON 36 SEVERED HEADS If I've Told You Once I've Told You 1,000 Times VIDEO/T-SHIRT

[IKON, VIDEO, VHS, ]



IKON 37 CABARET VOLTAIRE Plasticity

[IKON, VIDEO, UNDONE]



IKON 40 BUZZCOCKS Auf Wiedersehen VIDEO

[IKON, VIDEO, VHS, T-SHIRT, ASSORTED IMAGES]



IKON 42 C-Cat Trance

[IKON, VIDEO, VHS, ]



IKON 50 BRIAN NICHOLSON In the Cradle

[IKON, VIDEO, VHS, ]



IKON 52 IVAN UNWIN Septic Kz Project

[IKON, VIDEO, VHS, ]



MAN 1 Manchester Airport

[IKON, VIDEO, VHS, ]



MAN 2 Raleigh (unreleased Raleigh bikes documentary)

[IKON, VIDEO, VHS, ]



MAN 3 Shop (Booths supermarket)

[IKON, VIDEO, VHS, ]




MAN 4 Project X (unfinished)

[IKON, VIDEO, VHS, UNDONE]



MAN 5 Mancunia project (abandoned)

[IKON, VIDEO, VHS, UNDONE ]



MAN 6 Robb Wilton Project (abandoned)

[IKON, VIDEO, VHS, UNDONE]




Dubious Label (IKON/FCL offshoot label)

[IKON, VIDEO, VHS, ]




DUB 1 The Moodists

[IKON, VIDEO, VHS, ]



DUB 2 Danielle Dax

[IKON, VIDEO, VHS, ]



DUB 3 The Chevalier Brothers

[IKON, VIDEO, VHS, ]



DUB 4 The Higsons

[IKON, VIDEO, VHS, ]



DUB 5 James King & The Lone Wolves

[IKON, VIDEO, VHS, ]



DUB 6 The Sinatras

[IKON, VIDEO, VHS, ]



DUB 7 John Watts and the Cry

[IKON, VIDEO, VHS, ]



DUB 8 The Monroes

[IKON, VIDEO, VHS, ]



DUB 9 The Truth

[IKON, VIDEO, VHS, ]



DUB 10 The Bruce Foxton Band

[IKON, VIDEO, VHS, ]



DUB 11 The Bluebells

[IKON, VIDEO, VHS, ]



BB! 019 Twelve 88 Cartel – "Evidence"

[IKON, VIDEO, VHS, ]



Kurt 13 Radio Tirana – "Harmonie & Forschung"

[IKON, VIDEO, VHS, ]