Factory Records: FACDVD 424 '24 Hour Party People'
2xDVD: UK 2003 (Pathé P9036DVD / Factory FACDVD424) *
[Disc 1]
112:00 24 Hour Party People (Feature film)
-:-- Sleeve Notes (Who's Who)
?:?? Unknown Pleasures (24 deleted scenes)
?:?? Pills 'N Thrills and Bellyaches (Interviews)
?:?? NEW ORDER: Here to Stay (Promo video)
?:?? 24 FPS (Theatrical trailer)
112:00 (x2)
Bizarre Love Triangle ([1] Feature film audio commentary track by TONY WILSON; [2] feature film audio commentary track by Steve Coogan & Andrew Eaton)
~ DVD07420 P9036DVD D1 V2/L0 01 Technicolor, DVD07421 P9036DVD D1 V2/L0 02 Technicolor
[Disc 2]
112:00 From the Factory Floor (Commentary by Peter Hook, Martin Moscrop, Rowetta et al.)
?:?? Portrait of a Film-maker (Michael Winterbottom)
?:?? PETER SAVILLE Gallery (Factory artwork with audio commentary/conversation track by TONY WILSON and PETER SAVILLE)
~ DVD07462 P9036DVD D2 V2/A 01 Technicolor
* A numbered, limited edition of 5000 matching the AHW FAC 424 book artwork was issued by HmV. (The DVD discs themselves are identical to the regular edition in content and graphics.)
Design: THE CREATIVE PARTNERSHIP (regular edition). Titles and end-credits by CENTRAL STATION TECHNICOLOUR.
Notes: "FAC424DVD" also appears on the DVD screens; first as an intro film/animation, then as a 'bug' on all navigation screens. Directed by Michael Winterbottom.
See also FAC 401, FAC 424, FAC 433, FAC 451 [Hacienda set] and FAC 451 [JANE STANTON documentary].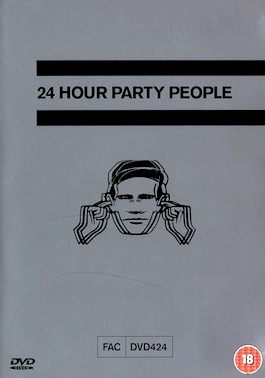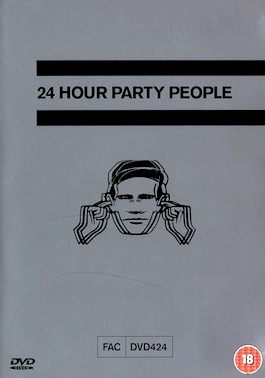 Related content
FACT 37 JOY DIVISION Here are the Young Men

[FCLUK, FIRST50, VIDEO, BETA, VHS, JOY DIVISION, MALCOLM WHITEHEAD, PETER SAVILLE]



FACT 38 A CERTAIN RATIO Below the Canal

[FCLUK, FIRST50, A CERTAIN RATIO, VIDEO, UNDONE]



FACT 46 VARIOUS ARTISTS The Video Circus (Liverpool)

[FCLUK, FIRST50, POSTER, VIDEO, EVENT, A CERTAIN RATIO, CABARET VOLTAIRE, JOY DIVISION, NEW ORDER, SECTION 25]



FAC 54 Hacienda Construction

[FCLUK, VIDEO]



FACT 56 VARIOUS ARTISTS A Factory Video

[FCLUK, VIDEO, VHS, BETA, PETER SAVILLE, SECTION 25, A CERTAIN RATIO, OMD, CABARET VOLTAIRE, THE DURUTTI COLUMN, KEVIN HEWICK, THE NAMES, CRISPY AMBULANCE, NEW ORDER, STOCKHOLM MONSTERS]



FACT 71 VARIOUS ARTISTS A Factory Outing

[FCLUK, VIDEO, VHS, BETA, NEW ORDER, JAMES-BAND, STOCKHOLM MONSTERS, 52ND STREET, A CERTAIN RATIO, SWAMP CHILDREN, THE DURUTTI COLUMN, THE WAKE, SECTION 25, QUANDO QUANGO]



FACT 76 JAZZ DEFEKTORS The Movie

[FCLUK, VIDEO, JAZZ DEFEKTORS, ]



FACT 77 NEW ORDER Taras Shevchenko

[FCLUK, VIDEO, VHS, BETA, NEW ORDER, PETER SAVILLE]



FACT 89 JOHN DOWIE Dowie

[FCLUK, VHS, BETA, VIDEO, JOHN DOWIE, RALPH STEADMAN]



FACT 105 HOWARD WALMSLEY Feverhouse

[FCLUK, VIDEO, VHS, BETA, Design: HOWARD WALMSLEY and TONY WILSON, GRAHAM MASSEY, BITING TONGUES ]



FACT 125 VARIOUS ARTISTS Bessy Talks Turkey

[FCLUK, VIDEO, VHS, BETA, JAMES-BAND, SECTION 25, THICK PIGEON, 52ND STREET, QUANDO QUANGO, THE WAKE, KALIMA, THE JAZZ DEFEKTORS, STOCKHOLM MONSTERS, THE DURUTTI COLUMN, MARCEL KING, NEW ORDER, ABECEDARIANS, SHARK VEGAS, STREETLIFE, A CERTAIN RATIO, LIFE, THE ROYAL FAMILY AND THE POOR, RED TURNS TO]



FACT 137 VARIOUS ARTISTS Shorts

[FCLUK, VIDEO, VHS, BETA, THE DURUTTI COLUMN, STOCKHOLM MONSTERS, THE WAKE, THE ROYAL FAMILY AND THE POOR, SECTION 25, KALIMA, JAZZ DEFEKTORS, QUANDO QUANGO, 52ND STREET, NEW ORDER]



FACT 144 THE DURUTTI COLUMN Domo Arigato

[FCLUK, THE DURUTTI COLUMN, CD, VIDEO, VHS, BETA, 8VO, MARK HOLT]



FAC 173 NEW ORDER Bizarre Love Triangle

[FCLUK, NEW ORDER, VIDEO, VHS, ROBERT LONGO]



FACT 177 NEW ORDER Pumped Full of Drugs

[FCLUK, NEW ORDER, VIDEO, VHS, BETA, Production: ANTHONY WILSON (Shoot director) / ROB GRETTON ("Prime Mover"), Design: CHRISTIANE MATHAN for PETER SAVILLE ASSOCIATES]



FACT 180 VARIOUS ARTISTS Factory Instore Tape No.1

[FCLUK, VIDEO, VHS, THE DURUTTI COLUMN, JOY DIVISION, KALIMA, HAPPY MONDAYS, THE RAILWAY CHILDREN, NEW ORDER, MIAOW, WILLIAM S. BURROUGHS, Design: PETER SAVILLE]



FACT 186 VARIOUS ARTISTS Festival of the 10th Summer

[FCLUK, VIDEO, CANCELLED, ALBUM]



FAC 194 THE DURUTTI COLUMN When The World

[FCLUK, THE DURUTTI COLUMN, SINGLE, CDS, CDV, VIDEO, VHS, STEPHEN STREET, 8VO, MARK HOLT]



FAC 209 HAPPY MONDAYS Film Shoot

[FCLUK, EVENT, VIDEO, ]



FAC 211 Wired Joy Division Feature

[FCLUK, VIDEO, JOY DIVISION, with TONY WILSON, ROB GRETTON, ALAN ERASMUS, PAUL MORLEY, PETER HOOK, STEPHEN MORRIS, BERNARD SUMNER, and a statement from MARTIN HANNETT]



FAC 213 JOY DIVISION Atmosphere

[FCLUK, SINGLE, VIDEO, 7-INCH, 12-INCH, CDS, Production: MARTIN HANNETT, Design: PETER SAVILLE (Art direction) / BRETT WICKENS / PETER SAVILLE ASSOCIATES (Design)]



FAC 223 NEW ORDER Fine Time

[FCLUK, SINGLE, VIDEO, 7-INCH, 12-INCH, CASSETTE, CDS, VHS, Video directed by RICHARD HESLOP, Production: NEW ORDER, Design: PETER SAVILLE ASSOCIATES and TREVOR KEY ]



FACT 225 NEW ORDER Substance

[FCLUK, VIDEO, VHS, PETER SAVILLE]



FAC 237 NEW ORDER Here Are The Old Men

[FCLUK, VIDEO, NEW ORDER, UNDONE]



FAC 255 CATH CARROLL Beast

[FCLUK, CATH CARROLL, SINGLE, VIDEO, 7-INCH, 12-INCH, CDS, VHS, DOUGLAS BROTHERS]



FACT 260 HAPPY MONDAYS Hallelujah

[FCLUK, CENTRAL STATION DESIGN, ALBUM, LP, CD, VIDEO, VHS, RICHARD HESLOP, THE BAILEY BROTHERS]



FACT 262 HAPPY MONDAYS Madchester Rave On

[FCLUK, HAPPY MONDAYS, SINGLE, 7-INCH, 12-INCH, CDS, CASSETTE, VIDEO, VHS, CENTRAL STATION DESIGN]



FAC 263 NEW ORDER Round & Round

[FCLUK, NEW ORDER, SINGLE, 12-INCH, 7-INCH, CDS, CASSETTE, VIDEO, VHS, PETER SAVILLE]



FAC 267 REVENGE Pineapple Face

[FCLUK, REVENGE, SINGLE, 12-INCH, 7-INCH, CDS, VIDEO, VHS, PETER SAVILLE ASSOCIATES]



FAC 272 HAPPY MONDAYS Step On

[FCLUK, HAPPY MONDAYS, SINGLE, 7-INCH, 12-INCH, CDS, CASSETTE, VIDEO, VHS, THE BAILEY BROTHERS, PAUL OAKENFOLD, STEVE OSBOURNE, CENTRAL STATION DESIGN]



FAC 273 NEW ORDER Run 2

[FCLUK, NEW ORDER, SINGLE, 7-INCH, 12-INCH, VIDEO, VHS, SCOTT LITT, MICHAEL WILSON, ROBERT FRANK, MICHAEL SHAMBERG, PETER SAVILLE]



FAC 277 JOY DIVISION Substance

[FCLUK, UNDONE, VIDEO, IDEA]



FAC 279 REVENGE Slave

[FCLUK, REVENGE, SINGLE, 7-INCH, 12-INCH, CDS, VIDEO, VHS, PETER SAVILLE, ASSOCIATES]



FAC 297 THE WENDYS Pulling My Fingers Off

[FCLUK, THE WENDYS, SINGLE, 12-INCH, 7-INCH, CDS, CASSETTE, VIDEO, VHS, IAN BROUDIE, DAVID KNOPOV]



FAC 298 NORTHSIDE My Rising Star

[FCLUK, NORTHSIDE, SINGLE, 12-INCH, 7-INCH, CASSETTE, CDS, VIDEO, VHS, IAN BROUDIE, CENTRAL STATION DESIGN]



FAC 302 HAPPY MONDAYS Kinky Afro

[FCLUK, HAPPY MONDAYS, SINGLE, 7-INCH, 12-INCH, CDS, CASSETTE, VIDEO, VHS, THE BAILEY BROTHERS, PAUL OAKENFOLD, STEVE OSBOURNE, CENTRAL STATION DESIGN]



FAC 306 STEVE MARTLAND glad Day

[FCLUK, CLASSICAL, STEVE MARTLAND, SINGLE, 12-INCH, CD, VIDEO, VHS, Production: GARY MASTERS, Design: BILL SMITH STUDIO]



FAC 307 CATH CARROLL Moves Like You

[FCLUK, SINGLE, VIDEO, 7-INCH, 12-INCH, CDS, VHS , TWO CONSULTANCY]



FAC 312 HAPPY MONDAYS Loose Fit

[FCLUK, SINGLE, VIDEO, 7-INCH, 12-INCH, CDS, VHS, PAUL OAKENFOLD, STEVE OSBOURNE, CENTRAL STATION DESIGN]



FAC 313 JOY DIVISION 'Transmission' Film

[FCLUK, VIDEO, VHS, PROMO, PROMOTIONAL, ]



FAC 321 JONATHAN DEMME The Perfect Kiss

[FCLUK, NEW ORDER, VIDEO, FILM, JONATHAN DEMME, VHS, PROMO, PROMOTIONAL]



FAC 327 REVENGE Gun World Porn

[FCLUK, REVENGE, SINGLE, 12-INCH, CDS, VIDEO, VHS, JOHN MACKLIN]



FAC 328 ELECTRONIC Feel every beat

[FCLUK, ELECTRONIC, SINGLE, 12-INCH, 7-INCH, CDS, CASSETTE, VIDEO, VHS, MARK FARROW, JOHNNY MARR, BERNARD SUMNER, ]



FAC 332 HAPPY MONDAYS Judge Fudge

[FCLUK, HAPPY MONDAYS, SINGLE, 12-INCH, 7-INCH, CDS, CASSETTE, VIDEO, VHS, PAUL OAKENFOLD, STEVE OSBOURNE, CENTRAL STATION DESIGN]



FAC 339 MTV Special History of Factory

[FCLUK, VIDEO, VHS, TONY WILSON, JEZ KERR and MARTIN MOSCROP, BERNARD SUMNER, STEPHEN MORRIS, PETER HOOK, GARY NEWBY, SHAUN RYDER, JOHNNY MACARTHUR, IAN WHITE, VINI REILLY]



FAC 362 HAPPY MONDAYS Stinkin' Thinkin'

[FCLUK, SINGLE, 7-INCH, 12-INCH, CDS, CASSETTE, VIDEO, VHS, HAPPY MONDAYS, FRANTZ / WEYMOUTH, CENTRAL STATION DESIGN, POSTER]



FAC 372 HAPPY MONDAYS Sunshine and Love

[FCLUK, SINGLE, 7-INCH, CDS, 12-INCH, VHS, VIDEO, FRANTZ / WEYMOUTH, HAPPY MONDAYS, CENTRAL STATION DESIGN]



FAC 400 JOY DIVISION Transmission

[FCLUK, VIDEO, VHS, JOY DIVISION, PROMO, PROMOTIONAL]



FACT 400v VARIOUS ARTISTS Palatine. The Free Vid

[FCLUK, VIDEO, VHS, JOHN MACKLIN, A CERTAIN RATIO, FADELA, NEW ORDER, CATH CARROLL, KALIMA, HAPPY MONDAYS, THE DURUTTI COLUMN, THE RAILWAY CHILDREN, JOY DIVISION, PROMOTIONAL]



FAC 451 JANE STANTON Love Will Tear Us Apart - A History of The Hacienda

[FCLUK, HACIENDA, VIDEO]



FAC 2.19 SPACE MONKEYS / AHW The Ineluctable Modality of Life

[FACTOO, VIDEO, VHS]



FAC 2.23 SPACE MONKEYS Signing On

[FACTOO, EVENT, VIDEO, VHS]



(ONCE) THE DURUTTI COLUMN The Third Member of The Durutti Column

[FACDO, VIDEO, VHS, MARTIN HANNETT]



FAC BN 7 VARIOUS ARTISTS The Factory Complication

[FBN, VARIOUS ARTISTS, VIDEO, VHS, BETA, A CERTAIN RATIO, SECTION 25, NEW ORDER, CABARET VOLTAIRE, THE DURUTTI COLUMN, CRISPY AMBULANCE, OMD, ]



FACTUS 25 VARIOUS ARTISTS Four + One

[FACUS, VIDEO, VHS, FADELA, THE DURUTTI COLUMN, HAPPY MONDAYS, BITING TONGUES, STANTON MIRANDA, CHRISTIANE MATHAN, ]



OF-2 (I/OF-2) THE FALL Perverted by Language bis

[OFNY, VIDEO, VHS, BETA, ]



SFA 406 JOY DIVISION Love Will Tear Us Apart

[FACOZ, SINGLE, JOY DIVISION, 7-INCH, 12-INCH, MARTIN HANNETT, PETER SAVILLE, VIDEO, ]



IKON 1 VARIOUS ARTISTS The Factory Complication

[IKON, VIDEO, VHS, BETA, A CERTAIN RATIO, SECTION 25, NEW ORDER, CABARET VOLTAIRE, THE DURUTTI COLUMN, CRISPY AMBULANCE, OMD, ]



IKON 2 JOY DIVISION Here Are The Young Men

[IKON, VIDEO, VHS, BETA, PETER SAVILLE, ]



IKON 3 VARIOUS ARTISTS A Factory Video

[IKON, VIDEO, VHS, BETA, PETER SAVILLE, SECTION 25, A CERTAIN RATIO, OMD, CABARET VOLTAIRE, THE DURUTTI COLUMN, KEVIN HEWICK, THE NAMES, CRISPY AMBULANCE, NEW ORDER, STOCKHOLM MONSTERS ]



IKON 4 NEW ORDER Taras Shevchenko

[IKON, VIDEO, VHS, PETER SAVILLE ASSOCIATES, ]



IKON 5 VARIOUS ARTISTS A Factory Outing

[IKON, VIDEO, VHS, BETA, NEW ORDER, JAMES-BAND, STOCKHOLM MONSTERS, 52ND STREET, A CERTAIN RATIO, SWAMP CHILDREN, THE DURUTTI COLUMN, THE WAKE, SECTION 25, QUANDO QUANGO ]



IKON 6 JOHN DOWIE Dowie

[IKON, VIDEO, VHS, BETA, RALPH STEADMAN, ]



IKON 7 THE BIRTHDAY PARTY Pleasure Heads Must Burn

[IKON, VIDEO, VHS, BETA, ]



IKON 8 THE FALL Perverted by Language Bis

[IKON, VIDEO, VHS, BETA, ]



IKON 9 VARIOUS ARTISTS The Final Academy Documents

[IKON, VIDEO, VHS, BETA, WILLIAM S BURROUGHS, BRYON GYSIN, ]



IKON 10 HOWARD WALMSLEY Feverhouse

[IKON, VIDEO, VHS, BETA, Design: HOWARD WALMSLEY and TONY WILSON, GRAHAM MASSEY, BITING TONGUES]



IKON 11 VARIOUS ARTISTS Bessy Talks Turkey

[IKON, VIDEO, VHS, BETA, JAMES-BAND, SECTION 25, THICK PIGEON, 52ND STREET, QUANDO QUANGO, THE WAKE, KALIMA, THE JAZZ DEFEKTORS, STOCKHOLM MONSTERS, THE DURUTTI COLUMN, MARCEL KING, NEW ORDER, ABECEDARIANS, SHARK VEGAS, STREETLIFE, A CERTAIN RATIO, LIFE, THE ROYAL FAMILY AND THE POOR, RED TURNS TO]



IKON 12 VARIOUS ARTISTS Shorts

[IKON, VIDEO, VHS, BETA, THE DURUTTI COLUMN, STOCKHOLM MONSTERS, THE WAKE, THE ROYAL FAMILY AND THE POOR, SECTION 25, KALIMA, JAZZ DEFEKTORS, QUANDO QUANGO, 52ND STREET, NEW ORDER]



IKON 13 IVAN UNWIN Flickering Shadows

[IKON, VIDEO, VHS, BETA, ]



IKON 14 THE VIRGIN PRUNES Sons Find Devils

[IKON, VIDEO, VHS, BETA, ]



IKON 15 SURVIVAL RESEARCH LABORATORIES A Scenic Harvest From The King of Pain

[IKON, VIDEO, VHS, BETA, ]



IKON 16 THE DURUTTI COLUMN Domo Arigato

[IKON, VIDEO, VHS, BETA, ANTHONY H WILSON, 8VO, MARK HOLT]



IKON 17 NEW ORDER Pumped Full of Drugs

[IKON, VIDEO, VHS, BETA, ANTHONY H WILSON, ROB GRETTON, CHRISTIANE MATHAN, PETER SAVILLE ASSOCIATES, ]



IKON 18 DANIEL LANDIN & RICHARD HESLOP The Child And The Saw

[IKON, VIDEO, VHS, BETA, ]



IKON 19 TOOLS YOU CAN TRUST The Tools For Better Labour

[IKON, VIDEO, VHS, BETA, ]



IKON 20 SEVERED HEADS Kato Gets The Girl

[IKON, VIDEO, VHS, BETA, Design: ROBERT JAMES ]



IKON 21 BRIAN NICHOLSON Show Me What You Look Like

[IKON, VIDEO, VHS, BETA, MALCOLM WHITEHEAD, ]



IKON 22 LIAISONS DANGEREUSES Liaisons Dangereuses

[IKON, VIDEO, VHS, BETA, ]



IKON 23 NICK TURVEY Radio Dog

[IKON, VIDEO, VHS, BETA, ]



IKON 24 HUNTERS AND COLLECTORS The Way To Go Out

[IKON, VIDEO, VHS, BETA, ]



IKON 25 Fat Of The Land - Selected British Films 1984-88

[IKON, VIDEO, VHS, BETA, RICHARD HESLOP, DANIEL LANDIN, MAGGIE JAILLER, CERITH WYN EVANS, JOY PERINO, CARRIE KIRKPATRICK, TIMOTHY BURKE, ]



IKON 26 BITING TONGUES Wall Of Surf

[IKON, VIDEO, VHS, BETA, JOHNSON/PANAS, TREVOR JOHNSON, T-SHIRT, ]



IKON 29 O YUKI CONJUGATE Peripheral Vision

[IKON, VIDEO, VHS, ]



IKON 30 SKA-BOOM Further Adventures Of Ska-boom

[IKON, VIDEO, VHS, ]



IKON 32 EDWARD BARTON

[IKON, VIDEO, VHS, ]



IKON 33 SLAB!

[IKON, VIDEO, VHS, ]



IKON 34 DUB SEX

[IKON, VIDEO, VHS, ]



IKON 35 PATRIK FITZGERALD Boardwalk

[IKON, VIDEO, VHS, ]



IKON 36 SEVERED HEADS If I've Told You Once I've Told You 1,000 Times VIDEO/T-SHIRT

[IKON, VIDEO, VHS, ]



IKON 37 CABARET VOLTAIRE Plasticity

[IKON, VIDEO, UNDONE]



IKON 40 BUZZCOCKS Auf Wiedersehen VIDEO

[IKON, VIDEO, VHS, T-SHIRT, ASSORTED IMAGES]



IKON 42 C-Cat Trance

[IKON, VIDEO, VHS, ]



IKON 50 BRIAN NICHOLSON In the Cradle

[IKON, VIDEO, VHS, ]



IKON 52 IVAN UNWIN Septic Kz Project

[IKON, VIDEO, VHS, ]



MAN 1 Manchester Airport

[IKON, VIDEO, VHS, ]



MAN 2 Raleigh (unreleased Raleigh bikes documentary)

[IKON, VIDEO, VHS, ]



MAN 3 Shop (Booths supermarket)

[IKON, VIDEO, VHS, ]




MAN 4 Project X (unfinished)

[IKON, VIDEO, VHS, UNDONE]



MAN 5 Mancunia project (abandoned)

[IKON, VIDEO, VHS, UNDONE ]



MAN 6 Robb Wilton Project (abandoned)

[IKON, VIDEO, VHS, UNDONE]




Dubious Label (IKON/FCL offshoot label)

[IKON, VIDEO, VHS, ]




DUB 1 The Moodists

[IKON, VIDEO, VHS, ]



DUB 2 Danielle Dax

[IKON, VIDEO, VHS, ]



DUB 3 The Chevalier Brothers

[IKON, VIDEO, VHS, ]



DUB 4 The Higsons

[IKON, VIDEO, VHS, ]



DUB 5 James King & The Lone Wolves

[IKON, VIDEO, VHS, ]



DUB 6 The Sinatras

[IKON, VIDEO, VHS, ]



DUB 7 John Watts and the Cry

[IKON, VIDEO, VHS, ]



DUB 8 The Monroes

[IKON, VIDEO, VHS, ]



DUB 9 The Truth

[IKON, VIDEO, VHS, ]



DUB 10 The Bruce Foxton Band

[IKON, VIDEO, VHS, ]



DUB 11 The Bluebells

[IKON, VIDEO, VHS, ]



BB! 019 Twelve 88 Cartel – "Evidence"

[IKON, VIDEO, VHS, ]



Kurt 13 Radio Tirana – "Harmonie & Forschung"

[IKON, VIDEO, VHS, ]