Swamp Children | Factory discography, LTM discography, links
Formed in Manchester in 1980, avant-funk outfit Swamp Children would mutate into acclaimed latin jazz outfit Kalima, recorded four albums between 1986 and 2002, most of them released on Factory Records.
The original line-up of Swamp Children comprised Ann Quigley (vocals), Tony Quigley (sax and bass), John Kirkham (guitar), Ceri Evans (keyboards and bass), Cliff Saffer (sax) and Martin Moscrop (drums). For six months the new outfit practised at a rehearsal space shared with fellow post-punk funksters A Certain Ratio and Joy Division/New Order. Ages ranged from 16 to 19, with only John Kirkham boasting any real prior experience, having played with Jayne Casey in Pink Military, and auditioned for Ludus. The Swamp Children moniker was also applied to a one-off fanzine, largely the work of art student Ann.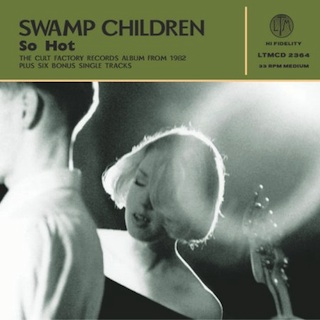 Swamp Children
Factory Communications Ltd
Miscellaneous